Hikosaka Naoyoshi : Naoyoshi Hikosaka Exhibition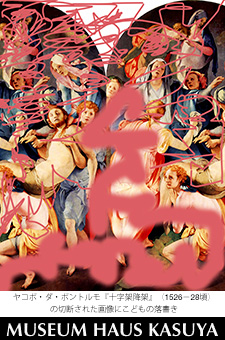 Hikosaka Naoyoshi will be participating in
Naoyoshi Hikosaka Exhibition
Venue: Museum Haus Kasuya
Dates: Sat. 8 August – Sun. 4 October 2020
Opening Hours: 10:00 – 18:00 (Last admission 17:30)
Closed on Mondays to Wednesdays
Admission fee: 700 yen (Adults), 600 yen (Students), 400 yen (Elementary school students)
彦坂尚嘉 『本歌取り新古今和歌集』&『孫たちの名画遊び』の2本立て上映
会期 2020年8月8日(土) – 10月4日(日)
時間 10:00 – 18:00(最終入場17:30)
休館日 月・火・水曜日
会場 カスヤの森現代美術館
料金 一般700円、学生600円、小学生400円
【彦坂尚嘉】8月8日(土)から10月4日(日)まで、カスヤの森現代美術館「彦坂尚嘉 『本歌取り新古今和歌集』&『孫たちの名画遊び』の2本立て上映」に参加いたします。現代美術の作家としてのみならず、執筆活動や独自に開発した言語判定法を駆使して、芸術分析を展開するなど多岐にわたる活躍で注目を集める彦坂尚嘉。本展では近年力を入れて制作している切断芸術による作品を中心に展観いたします。横須賀にお立ちよりの際は、是非ご高覧ください。
※本展は、映像作品ではございません。
関連イベント
特別講演 『平安新古今時代の子供の絵について』『キルヒナーの切断された手』
日時 2020年9月5日(土)15:00より ※要予約
弁士 彦坂尚嘉
Hikosaka Naoyoshi will be participating in the "Naoyoshi Hikosaka Exhibition" at Museum Haus Kasuya, Yokosuka.
Naoyoshi Hikosaka is a contemporary artist and writer who uses his own self-developed language to analyze art. His works of "disconnection art" are on display. If you are to come nearby Yokosuka, please don't miss it.
Related event
Special lecture by Hikosaka Naoyoshi
Date: Sat. 5 September 2020, 15:00
Reservations required. Please see the official website for details.
For more details, please check the following websites;
http://www.museum-haus-kasuya.com/index000.htm
2020-08-05
SAME TAG POSTS